MUN • Model United Nations • Italia
We prepare you for the challenges of tomorrow
United Nations Simulations - learning-by-doing
MUN Italy aims to train Italian students to participate in the world's most competitive United Nations Simulation. These international events gather participants from more than 90 different states.
MUN•ITALIA, a leader in innovative training

prepares high schools and universities' students to participate in the most important Model United Nations in the world. 
With a team of experts in educational models based on learning-by-doing formats, the training courses, created and organized by MUN ITALIA, are internationally recognized for their quality and effectiveness. 
Our courses  focus on  strengthening  the most important and required soft skills to be spent in academic and working environments, such as Public Speaking, Negotiation, Team Work, Time Management, Leadership, Research and writing methods.
University Professors and Researchers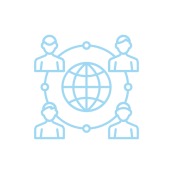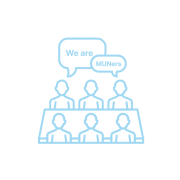 An event that brings together nations, cultures, perspectives, and passions
What is a Model United Nations (MUN)?
A Model United Nations is a training project that, through a role game, allows participants to simulate the decision-making processes of several United Nations committees. 
Each student will play the role of Ambassador of a country and will have the objective of formulating and negotiating, together with their colleagues, documents the so-called resolutions. The resolutions will aim to find e solutions  for some of the most important problems facing the international community, such as climate change, human rights, armed conflict, migration, economic crises and many others.
What our students say about MUN
I attended MUN New York…it has been an amazing experience!!! The training course was super interesting and engaging…now, after 7 years, I work in the international field and MUN has certainly helped me in my job choices!!!
I participated in MUN Rome during my second year of my Bachelor's program, an experience I would do again a thousand times! In addition to improving my English and gaining the ability to work in a team and deal with the unexpected with rationality, I understood what I wanted to do in the future. Last year I got an internship at the United Nations in Geneva and I must say that it was also thanks to what I learned with MUN that I was able to maximize my experience!
I participated in MUN ROME and I have to say that it was an important turning point in my life. An experience that made me realize what I wanted to do when I grew up and gave me the tools to achieve my goals. Everyone should attend at least once!!!
Soft skills that will help you in the job market
Partners and collaborations